How many of you have a fitness app on your smartphone? And how many times have you really opened the app and performed the exercises? Don't be embarrassed – we all are guilty of installing a fitness app at some or other point in our life. It's only those who can move beyond the apps and find out for something more impactful, win the fitness game.
Not sure what we are talking about? Well, live streaming fitness classes. Online fitness training is a rage these days. With YouTube videos to fitness apps and thousands of blogs spread across the web, it may be a bit complicated to realize the efficacy of live classes. No worry, we will walk you through it. Without further ado, let's dive in then!
A Comparative Study between Fitness Apps and Live Classes:
Everyone loves free stuff. With so many free videos available on fitness apps and in YouTube, why would you pay to join live classes!
We understand. Let's see why!
1. Regulations
Amateurs or unqualified fitness geeks can create a YouTube channel and upload videos. Also, any and every unregulated agency can create a fitness app to foster their business. Following these will only do more harm for you than any good. Also, no one is present to supervise if you are performing the exercises properly or at risk of injuring yourself. Your knees may bow out while doing a squat or you may move in a way that can strain your back. 
Live classes can minimise the risk of injury. The gym centres or fitness studios appoint only certified fitness experts to train you  online. If you opt for HIIT or pilates classes in Mumbai, we recommend you join a live class. Experienced and certified trainers can properly guide you throughout the session.
Bonus tip – Live classes also offer free trial sessions. Check these out before joining a class!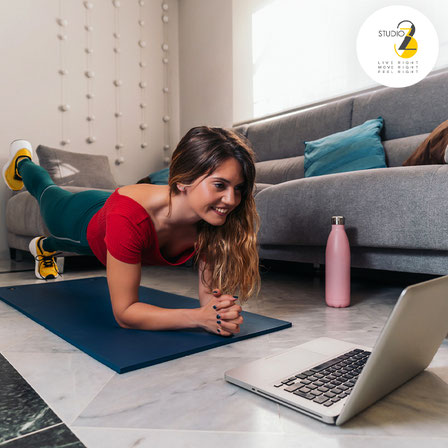 2. Human Connection
Social distancing has already created enough stress on people. And any fitness regime starts with a stress-free and healthy mind. That's why fitness trainers always focus on human interaction to keep you accountable and motivated. Various live online fitness classes allow everyone to be visible on the screen and enables conversations You can also attend a class with your friend from anywhere in the country or world.
Further, you can watch your instructor live on the screen and clear your questions rather than checking out those pre-recorded videos repeatedly. This helps to recreate the real-class experience for you. Nothing can replace that.
3. Motivation
Remember how we started today's discussion asking how many times you have actually opened the installed fitness app? This is where we wanted to land.
You see, exercise starts with a little motivation. And that's what is missing in pre-recorded training videos. Once you register for a live fitness class, you will have the motivation to join it every day due to the human element. Let the virtual world recreate the experience of a real-time class. Further, several fitness studios in Mumbai often arrange fitness challenges in Mumbai. These will also motivate you to participate and drive you to keep yourself fit and healthy.
Final Take
We hope our blog will help you to make the right decision – whether to opt for live classes or settle with pre-recorded fitness videos. After all, your well-being depends on your choice – so pick the one that you are most comfortable with. 
Oh, and don't forget to thank us later!